Since 1912
Originally founded in 1912 as a family-owned manufacturer of surgical instruments Carl Reiner GmbH has known a long tradition in the development and manufacturing of cutting-edge surgical instruments. Especially during the early 20th century, which saw great advances in ENT medicine in Europe (and in Vienna in particular), Carl Reiner GmbH was at the forefront of new developments.

It was no coincidence, therefore, that professor of otolaryngology Oskar Kleinsasser (1929 – 2001), a great pioneer in the development of microlaryngoscopy in the early 1960s, would turn to Carl Reiner GmbH for the first prototypes of the Kleinsasser laryngoscopes. Still today these laryngoscopes bear his name and are widely used. This is but one example of many developments Carl Reiner GmbH was part of in those days.
It wasn't until the late 1980s that Carl Reiner GmbH would gradually shift its focus towards a particular form of mechanical lung ventilation, called 'jet ventilation'. The close cooperation with the University Hospital of Vienna, and Dr. Alexander Aloy in particular, demonstrated that there was a real need for a ventilator designed to cater to the specific needs of upper airway surgery.

In 1989 close cooperation with Dr. Forrest M. Bird (1921 – 2015), who had started to develop his own mechanical lung ventilators already in the 1950s, resulted in the first jet ventilator equipped with dedicated jet instruments, called 'Bronchtron 1G'.

Its modern-day successor, an electronically-controlled jet ventilator with a 10.4" touchscreen first saw the light of day in 2006. Since then the TwinStreamTM jet ventilator has been installed in 40+ countries worldwide and has become an invaluable asset in numerous university hospitals. Needless to say a wide range of carefully crafted jet instruments such as jet laryngoscopes and jet bronchoscopes still set this device apart from any other ventilator.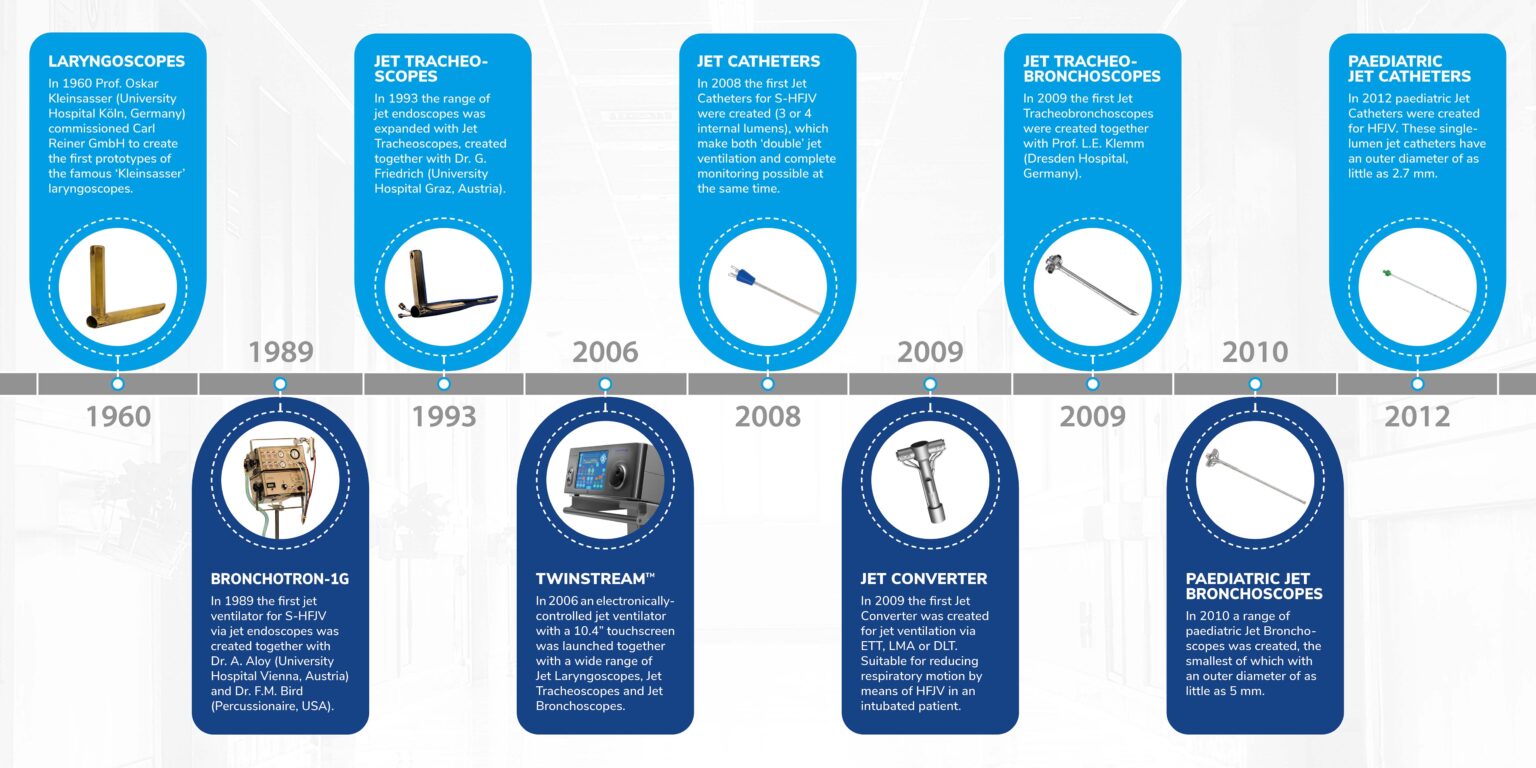 Evidence-based
Decades of close cooperation with leading clinicians from around the world result in evidence-based innovations which meet specific needs
Reliable products
A rigorous development and manufacturing process and a strong QA/RA team guarantee qualitive and durable products
Customer service
As a customer-oriented company we provide impeccable service to distribution partners and hospitals in 40+ countries